5 Reasons We Love Kinetic Sand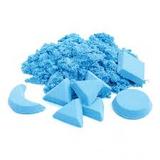 5 Reasons We Love Kinetic Sand - The Rainbow Fun Review

Educational Colours Magic & Cotton Sand is a sensory play sensation and you'd be surprised how something so simple could entertain children for so long…that is until you actually have a play with it yourself. So what exactly is this mysterious product?

Similar to Play Doh in many ways (but much more fun in our opinion), Magic Sand might be described as a dry version of wet sand you'd find at the beach (if that makes any sense…), sand that can be moulded and shaped and doesn't dry out. If you are after the ultimate sensory fun then you can't go past Cotton Sand, with it's soft silky feel, it's stretchable, mouldable and feels amazing!
Pretty cool, huh? Here are some of our favourite things about these amazing products:

It seems to defy physics!

Part of what makes this kinetic sand so amazing is that it defies the physical nature of sand that we are used to, so when we first see the way it moves and shapes itself, it is fascinating to behold. The video above demonstrates this really well. No matter what you do to the clump of sand it will always stick together and keeps its form unlike regular sand. When you play with it, you'll see how it oozes and melts through your hands – it's quite an experience.

It's easy to clean and not harmful in any way

From a parent's perspective, the product deserves two thumbs up. Being "kinetic" the sand sticks to itself! Not only is easy to clean up and perfect for play indoors, but it's also gluten free and non-toxic if kids decide to put it in their mouth.

It's super relaxing

This is true for both kids and adults. The tactile properties of the product are said to reduce stress in the same way that a stress ball does. It's really something you'd have to experience but you can understand how it would relax you just by running it through your fingers or doodling with it at your desk.

It helps promote development

Appropriate for ages 3 and up, Magic Sand's positive influences on growth and development are well documented. There is evidence to suggest that the sand increases sensory awareness, develops hand eye coordination and fosters creativity, as it can be used to create a range of shapes and objects. In an age where kids are getting less activity than ever before, it's always a plus to get youngsters interested in creative play that have some positive effects on their development. Kinetic sand is the ideal toy for sensory learning and play.

It is an art form

The potential for art and creativity is limitless with this kinetic sand both the Magic Sand and Cotton Sand. There are a range of amazing colours available for you to create an endless variety of visual masterpieces. You can draw in it, shape it or sculpt it into whatever design takes your fancy.
---
Leave a comment